The real roots of the economic crisis
September 2, 2009Jon Brooks
Comments Off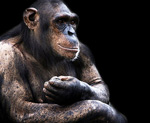 If you happen to be in Cambridge, Massachussetts on October 8th, drop in on a lecture by Marc Hauser, Director of the Cognitive Evolution Lab at Harvard: How Apes and Monkeys May Help Us Understand the Economic Crisis. Hauser will argue that "many of the problems in our own economic decision-making can be traced back millions of years when our primate ancestors were small-brained quadrupeds lacking any concept of money or the stock market." Hmm. Sounds like some financial advisors we know.
Some ideas espoused by Hauser, gleaned from
here
and
here
.
In experiments with mirrors, great apes have demonstrated self-awareness, a trait closely linked to knowledge of what others know and don't know. Great apes and monkeys use this information to both teach and deliberately deceive.
Despite signs of empathy, cooperation, and "reciprocal altruism," neither guilt nor shame, qualities necessary to a true morality, have yet to be scientifically observed in non-human animals.
Chimps are more patient than people.
Whereas humans are apt to punish those they consider to be unfair even at a cost to themselves, chimps will not make that choice. Extrapolating from that: Chimps do not exhibit a sense of fairness.
If you can't make it to Cambridge, listen to this 2007 interview with Hauser on the ideas in his book "Moral Minds."